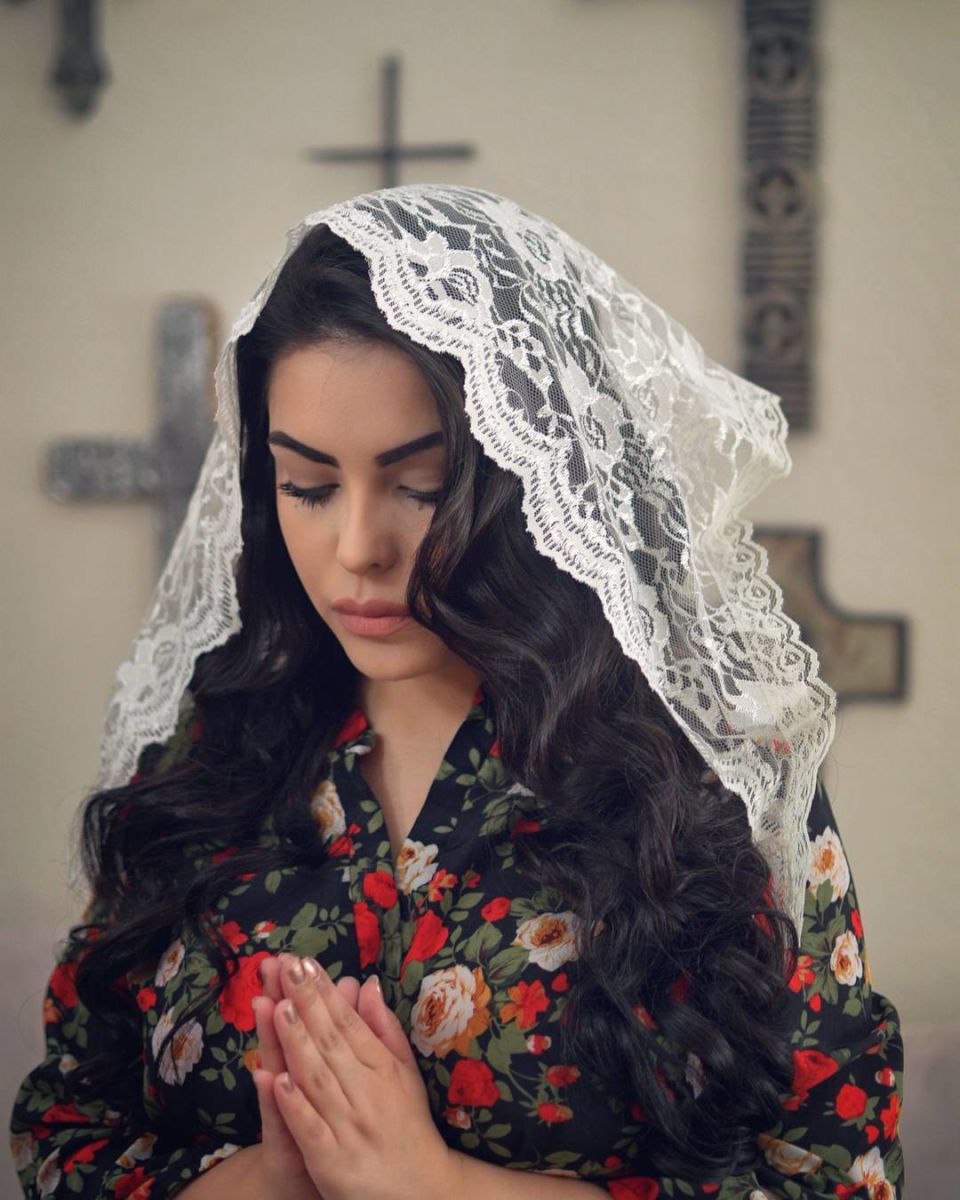 "There's a new uprising in the Church of millennials who are actually wanting a more traditional take on their faith," [former "Top Model" and current Catholic speaker and author Leah] Darrow says.
Source:  Why Millennial Catholics Are Re-Adopting the Traditional Chapel Veil – Fashionista
I have posted on this subject here previously, but not for a while. This is a good article – although from an unexpected source – and a good opportunity to revisit the subject!
One thing needs to be pointed out: the key elements that differentiate Christian women veiling in church from Muslim women wearing the hijab are that it is a) voluntary, not a requirement, and b) generally occurs only in the context of actual worship: in church, or for some women, only when actually praying and/or receiving the Holy Communion. That said:
For some of these young people, "the appeal of veiling was initially an emotional one: It made her feel humbled and reverent, like removing a hat during the national anthem or at a funeral might, and made her more able to focus on prayer."
Others "have chosen to adopt the veil after digging into the theological ramifications of the tradition." To them,
"chapel veils represent a whole range of things: a way to emulate the veil-wearing Virgin Mary, an experience of 'authentic femininity' that sets women apart as specially blessed bearers of life and a reminder that she and all members of the church are to consider themselves brides in a symbolic marriage to Jesus, whom the Bible sometimes describes as a bridegroom."
The practice of veiling is usually associated with Roman Catholics (although some Eastern Orthodox also practice it, and historically, some Anglicans have as well), but the tradition of women covering their heads in church has a long history in Christianity – dating to earliest days, and continuing until fairly recently in most churches. My very Methodist mother and grandmothers practiced it, although they used hats rather than veils!
As vicar of St. Bede's, I commend the prayerful consideration of this practice (whether using the traditional chapel veil, a scarf, or a hat) to any women interested in our traditional Anglican mission, although I by no means enjoin it on any. Just something to think about, pray over, and perhaps research more deeply, should you feel that God is so leading you.
And of course, like any other attire worn to church, care should be taken, when choosing head-coverings, to balance the desire to "put one's best foot forward" for God with the need to avoid distracting or drawing the attention of one's fellow-worshipers. As one young woman quoted in the article aptly notes,
"It's paradoxical; the best things in life are. It only can be pulled into perfect balance if you're in it for the right reasons and you have a relationship with God. Otherwise, it does turn into a 'look how flashy I am, or look how holy I am' thing."
As always, the watchwords are dignified and reverent!