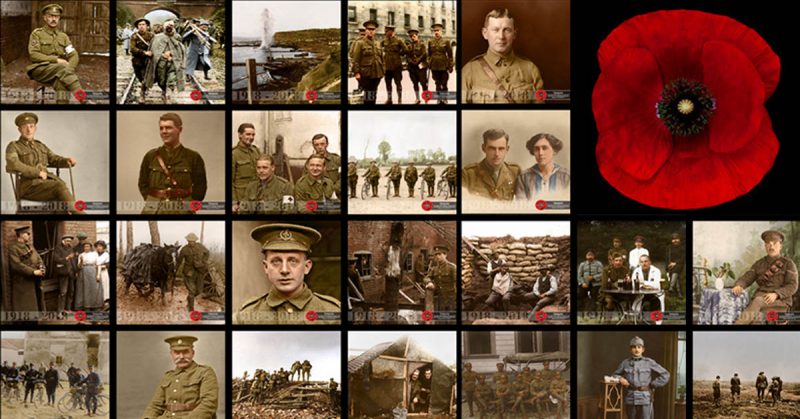 "To mark the centenary of the end of the First World War, I have decided to collate 100 images I've colorized in tribute to the men and women who lived through the war, and those who lost their lives."
Source: 100 Beautiful Colourised Photos of WW1 for the 1918-2018 Centenary
We are, at this posting, just three days and a little more than an hour (EST) from the Centenary of "the eleventh hour, of the eleventh day, of the eleventh month" – 11:00 a.m. on November 11th, 1911 – when after more than four years of horrifically bloody warfare which all but destroyed a generation and generated chains of events the effects of which are still being felt, the guns of the Western Front fell silent, and "the Great War," the "war to end all wars," was finally over.
I have mixed feelings about colorizing old pictures, but these striking photographs do, in my estimation, tend to humanize the people depicted, and lessen the gulf between their time and ours. It is too easy to forget events that happened only a decade or so ago (witness the decreasing appreciation of the events of 9/11, and their significance to the world we live in), and all the more when the events occurred a century ago.
This coming Sunday is the 11th of November: traditionally Martinmas, the Feast of St. Martin of Tours – a Roman soldier – in the calendar of the Western Church, but since 1918, commemorated somberly as Armistice Day (Remembrance Day, in the U.K.). In the U.S., that remembrance has been somewhat eclipsed by the larger context of Veterans Day, since we have a Memorial Day in the spring. But this year, on its Centennial, let us not forget the ending of a war which, far from ending all wars, ended up sparking – directly or indirectly – most of the wars since.
"Poppies are for remembrance." Let us remember.