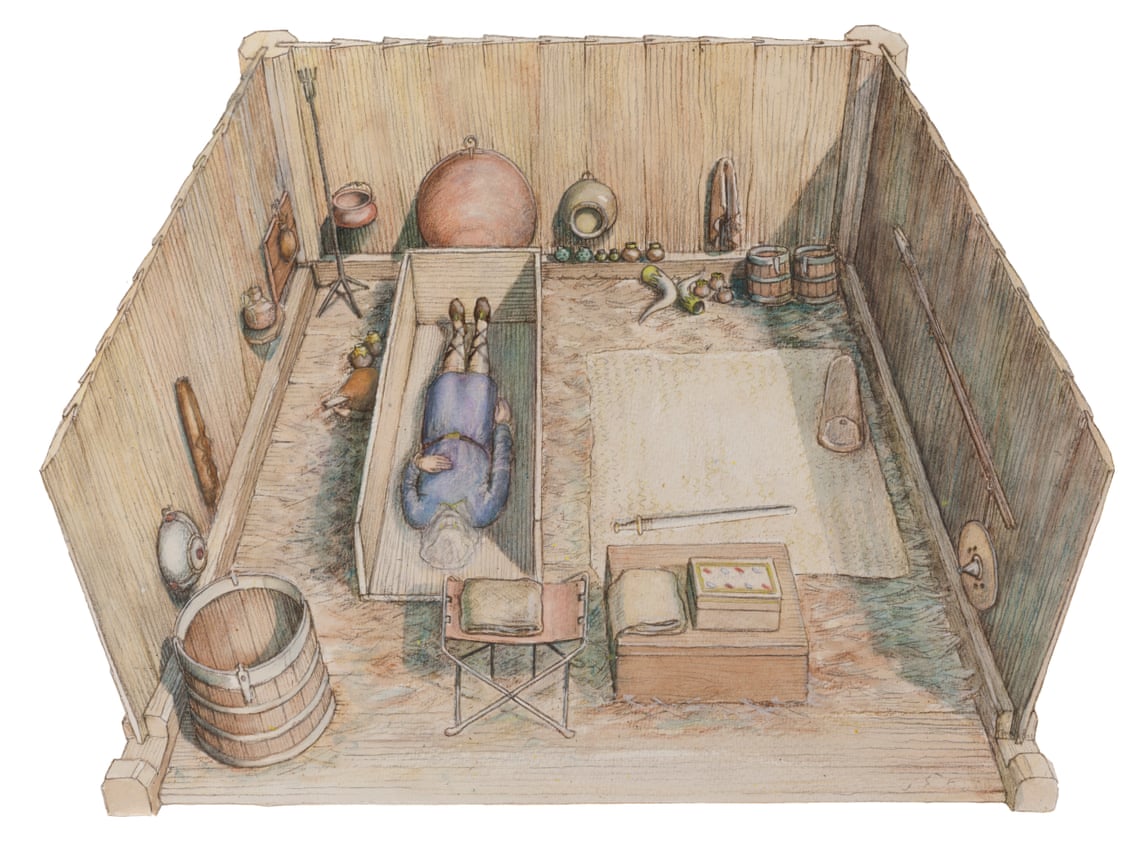 Burial chamber of a wealthy nobleman in Prittlewell shows Anglo-Saxon Essex in new light
Source: Britain's equivalent to Tutankhamun found in Southend-on-Sea | UK news | The Guardian
The title is a little click-bait-ish; the article itself points out only that "it could be seen as a British equivalent to Tutankhamun's tomb, although different in a number of ways." Nonetheless, a fascinating find!
As the article also comments, the site was discovered in 2003, as the result of a proposal to widen a road, but "it is only now, after years of painstaking investigation by more than 40 specialists, that a fuller picture of the extraordinary nature of the find is emerging."
Of greatest interest to me, as The Anglophilic Anglican:
"… scientific dating now suggests the burial was in the late-6th century, about 580… Gold foil crosses were found in the grave which indicate he was a Christian, a fact which has also surprised historians.
"Sue Hirst, Mola's Anglo-Saxon burial expert, said that date was remarkably early for the adoption of Christianity in England, coming before Augustine's mission to convert the country from paganism.
But it could be explained because Seaxa's mother Ricula was sister to king Ethelbert of Kent who was married to a Frankish Christian princess called Bertha. 'Ricula would have brought close knowledge of Christianity from her sister-in-law.'"
However it arrived (and the connection to Kent is significant, as it was King Ethelbert who gave refuge to Augustine, later "of Canterbury," when he arrived), this is interesting – to my mind, fascinating! – evidence that Christianity had at least a toe-hold in Anglo-Saxon England earlier than most had previously thought.
Things like this are why my understanding of the "Anglican Tradition" encompasses much more than simply Cranmer, Hooker, and the Caroline Divines. Without question, they were crucial to the formation of Anglicanism as we understand it today. But the roots of the Ecclesia Anglicana are found here – and in similar sites, both previously and yet-to-be discovered – and even earlier, among the Celts (both Brythonic and Goidelic) that preceded the Anglo-Saxons.
There is so much more to the Anglican tradition than just the 16th and 17th centuries!