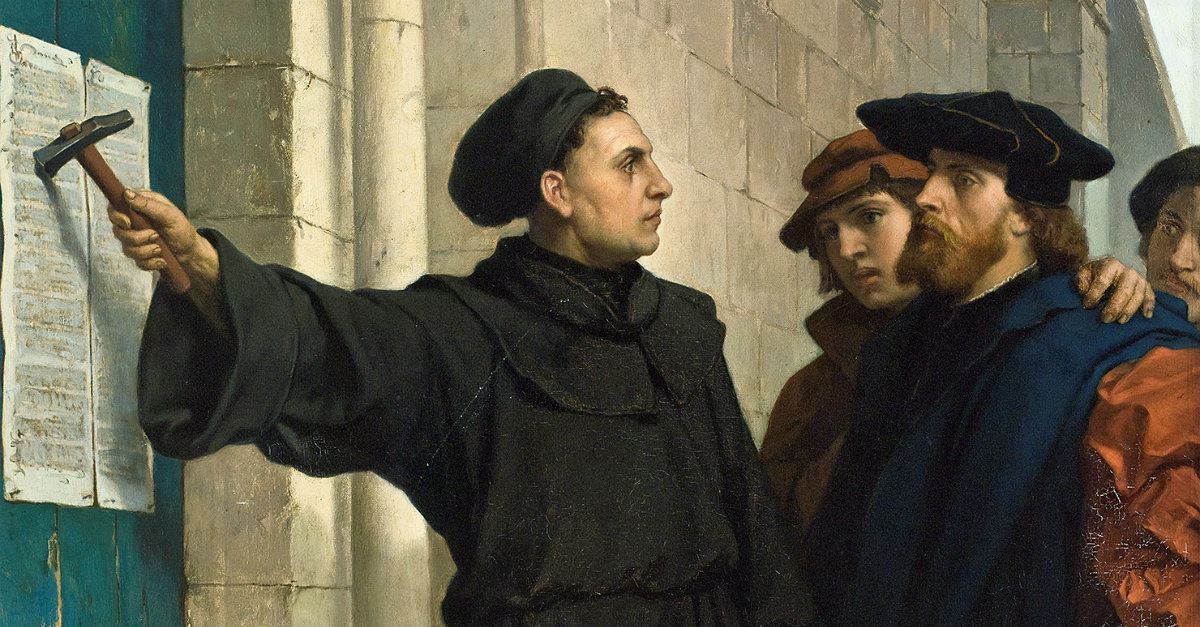 In order to discern the truth about an event as complex as the Protestant Reformation, one needs to be able to look at it objectively.
Source: Why I Don't Celebrate The Reformation (And Neither Should You) | René Albert
Today is celebrated by some Protestant Christians as "Reformation Day," in memory of the fact that Martin Luther nailed his "95 Theses" to the church door at Wittenberg on 31 October 1517, sparking the Protestant Reformation. But what of that Reformation? While the title of this essay is rather click-bait-y, it raises some excellent points:
"Whether someone sides with Catholic or Protestant theology, the Reformation is not something that ought to be celebrated, but much rather commemorated… I may not be an expert historian, but my learnings have led me to believe that neither Catholics nor Protestants have the higher moral ground in the outcome of such a travesty. I believe all Christians can benefit from refraining from boasting in a movement that was motivated by the thoughts and actions of mere men."
And which has led to untold death, destruction, division, and polarization in the centuries since. I tend to view the Reformation as a (possibly, on the assumption that Rome was incapable of reforming itself, apart from the resulting revolution – an assumption which is neither provable nor disprovable at this juncture) necessary evil, in light of some very real late-medieval errors and abuses on the part of the Roman Church. That said, the idea that it was a triumph of faith, reason, and theological precision in direct contradistinction to "Popish superstition" and apostasy is a lot harder to defend, if one looks at the matter in more detail.
Particularly onerous to me is the implication – and, at times, outright assertion – on the part of some Protestants that the Holy Spirit had in effect abandoned the Church for a period of a thousand years, from the end of the 5th century to the beginning of the 16th. And of course, the Reformation enshrined the principle of individual interpretation, the dismantling of tradition, and the devaluation of the authority found in the consensus fidelium, which led – via a trajectory clearly traceable from the Reformation through the "Enlightenment" – to the contemporary marginalization of the Church(es) and the Christian faith itself, in our present era.
So, no, I do not "celebrate" the Reformation. I tip my hat to it; I recognize the value in some of its accomplishments, and in what some of its leaders said and did. But I don't deify it, I don't idolize it, and I don't let myself be blinded to its shadow side.