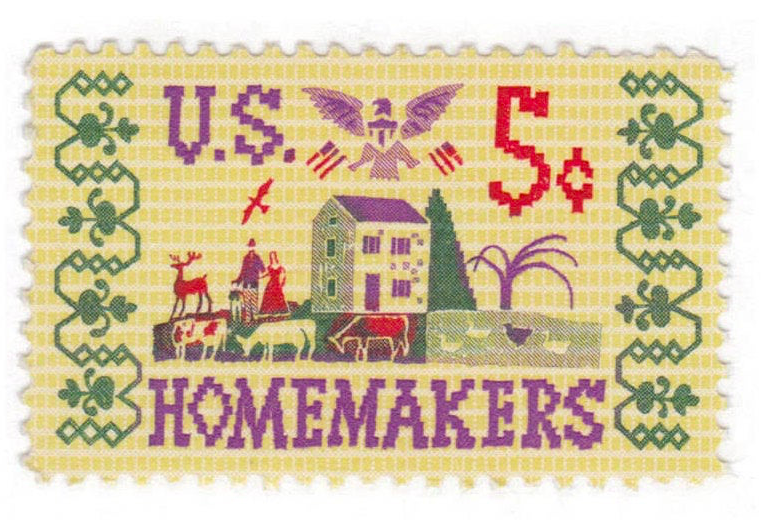 Mountain Housewife (@mtnhousewife) on Twitter shared this lovely image and posted,
"Imagine a day when the ordinary mother caring for her home is held up as an ideal again. This stamp celebrating the homemaker was issued by the U.S. Postal service in 1964."
That was just a year before I was born! Back when there were only slightly over 2 billion people on the whole planet (there are something like 7.3 billion, now, and the number keeps growing), America was proud of its identity as a Christian nation, and my mother was equally proud of her membership in the Homemakers Club.
[These still exist, by the way, although they're not as large, active, or prominent as they were in her day. Traditional Homemakers Clubs "are generally grouped by location and focus on homemaking skills, personal growth, socialization, volunteer efforts and improving the community," just as they did in the 1950s – 80s. But, as I say, they are not as widespread. I could not find reference to an active one in Maryland, unfortunately. When they exist, they are usually – as they were then – under the auspices of the Agricultural Extension Service of the local land-grant university. The link is to the University of Kentucky!]
[UPDATE: I take that back! There do still seem to be a few active clubs in Maryland, including one in Frederick County, not too far from me.]
But when I looked up "Homemaking Monday," thinking it would be an annual observance, what I found surprised me – and pleasantly so! Quite a few blogs of homemaking women, "Trad Wives", etc., seem to be viewing "Homemaking Monday" as a weekly occurrence, a time to celebrate the art of the housewife. That is encouraging, in my view!
That said, though, see "Why tradwives aren't trad enough," for a discussion about the limitations of this approach (which typically takes the very historically and economically exceptional 1950s as its template), and some suggestions for possible solutions to this dilemma – one which closely tracks my own thinking on the subject (think Proverbs 31:10-31). I'll probably write more on the subject at a later time.
But for now, let me just celebrate the fact that at least a growing number of women are rejecting the idea that they should emulate Industrial Revolution (and post-Industrial Revolution) men, and work outside the home to find their fulfillment. I don't even think that's a good idea for most men, and I certainly don't think it's a good idea for women. But as I say, I'll write more on that subject anon.
In the meantime, kudos to those women who are at least keeping the skills, arts, and qualities of the homemaker alive. We can re-weave some of the broken strands of truly traditional home and family life later on. Survival and preservation is an important first step, and I doff my hat to these women!