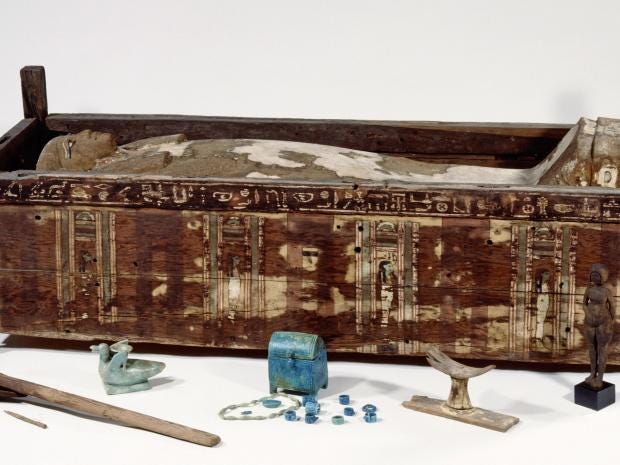 Scientists who managed to obtain full genome sequences of Ancient Egyptians for the first time have concluded the people of the pharaohs were more closely related to modern Europeans and inhabitants of the Near East rather than present-day Egyptians.
Source: Ancient Egyptians more closely related to Europeans than modern Egyptians, scientists claim | The Independent
The researchers, writing in the journal Nature Communications, admitted their sample "may not be representative for all of ancient Egypt." Nevertheless, they concluded the mummified people were "distinct from modern Egyptians, and closer towards Near Eastern and European samples".
"Our analyses reveal that ancient Egyptians shared more ancestry with Near Easterners than present-day Egyptians," they wrote. And they added: "We find that ancient Egyptians are most closely related to Neolithic and Bronze Age samples in the Levant, as well as to Neolithic Anatolian and European populations. 
"When comparing this pattern with modern Egyptians, we find that the ancient Egyptians are more closely related to all modern and ancient European populations that we tested, likely due to the additional African component in the modern population."
Some of us would not find this particularly surprising. I don't! But the dissenter they found for this article, this Professor Stephen Quirke, "an Egyptologist at University College London," is "quirky" all right. Regarding his comment that "When we are discussing it, we have to be much more sensitive to how these kinds of statements are read outside where we are at the moment," it's not hard to read between the lines: a less careful and euphemistic way of stating that would be along the lines of, "we have to be careful not to offend those people who have bought into the Afro-centric narrative."
In other words, preserving a Leftist narrative that privileges sub-Saharan Africans over people of European and Middle Eastern ancestry with respect to the high culture of Egypt – and the "multiculturalist" (read: anti-Western) agenda that entails – is the most important consideration, even if the science clearly demonstrates that that's a load of bull-puckey. Once again, it's ironic how the Left trumpets "science" when they think they can use it to discredit traditionalist ideas, but abandon it in a hurry when it supports traditional understandings, rather than their revisionist agenda!
At any rate, it seems fairly clear that the primary survivors of the "original" ancient Egyptians are the Copts, who survive as an often-persecuted minority of Christians in modern Egypt, having been converted by the missionary work of St. Mark the Apostle. It should not be forgotten that Egypt was host to a thriving Christian civilization – centered on Alexandria, one of the five ancient Patriarchates and a major center of Christian learning and devotion – prior to Egypt's violent subjugation by Islam.
And it was with that shift that the genetic composition of Egyptians, which as this article points out had remained "genetically relatively unaffected by foreign conquest and rule" prior to the Islamic invasion, shifted as well.