President Trump has announced, in a brief statement at a news conference this afternoon (Friday, May 22, 2020), that churches and other "houses of worship" are to be considered essential, calling upon Governors to allow churches to open.
The President stated that he identified houses of worship "as essential places that provide essential services" – which they certainly are! – and called on governors "to do the right thing and allow these very important essential places of faith to open right now, for this weekend."
In a statement which is certain to be controversial, he asserted that "if they don't do it, I will override the governors," although it is unclear by what authority or by means of what practical mechanism he would do that.
Now, I generally tend to be on the side of "States Rights," but to be frank, many of the governors have seemed to be using their heads for little but hat-racks in this crisis, and that's putting it as gently as I possibly can. Kudos to the President for expressing a truth which earlier generations would have held to be self-evident! It's just a shame he had to.
He further noted that "In America, we need more prayer, not less." To all of which I can only say, about darned time! The fact that, as the President pointed out, many governors have considered bars and abortion centers to be "essential," but left out churches, is something that has stuck in my craw for a good while, now! Again, kudos to President Trump.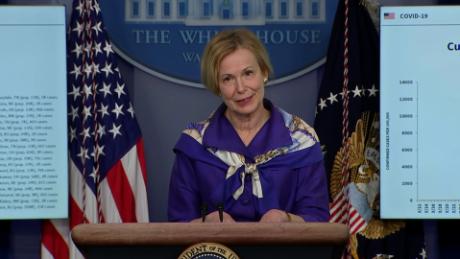 In addition, Dr. Deborah Birk, chief of the national Covid-19 task force, has pointed out that nationwide, new hospitalizations and emergency room admissions for both influenza-like illnesses and covid-like illnesses have been declining throughout the past month, according to CDC data. In fact, across the country, she points out that we are "below baseline."
Maryland, sadly, has been lagging behind: it remained stubbornly "orange" when most other states had turned various shades of green: Dr. Birx reports that the CDC has been "calling out" the "high plateau" in Maryland for some weeks, now. But even the Old Line State has dropped to yellow, at least, over the last week. That is excellent news! The CDC website confirms this overall improvement, stating that
"Nationally, levels of influenza-like illness (ILI) and COVID-19-like illness (CLI), as well as the percentage of specimens testing positive for SARS-CoV-2, the virus that causes COVID-19, continue to decline. Mortality attributed to COVID-19 also decreased compared to last week but remains elevated above baseline," noting cautiously, as always, that numbers "may increase as additional death certificates are processed."
This doesn't mean we're out of the woods, as of yet; and of course, there is always the chance for the dreaded "second wave." But it is certainly encouraging to see some significant progress, at long last! Other pieces of data from the CDC website: Continue reading "Update on the coronavirus pandemic – with some reflections from The Anglophilic Anglican (warning: LONG!)"