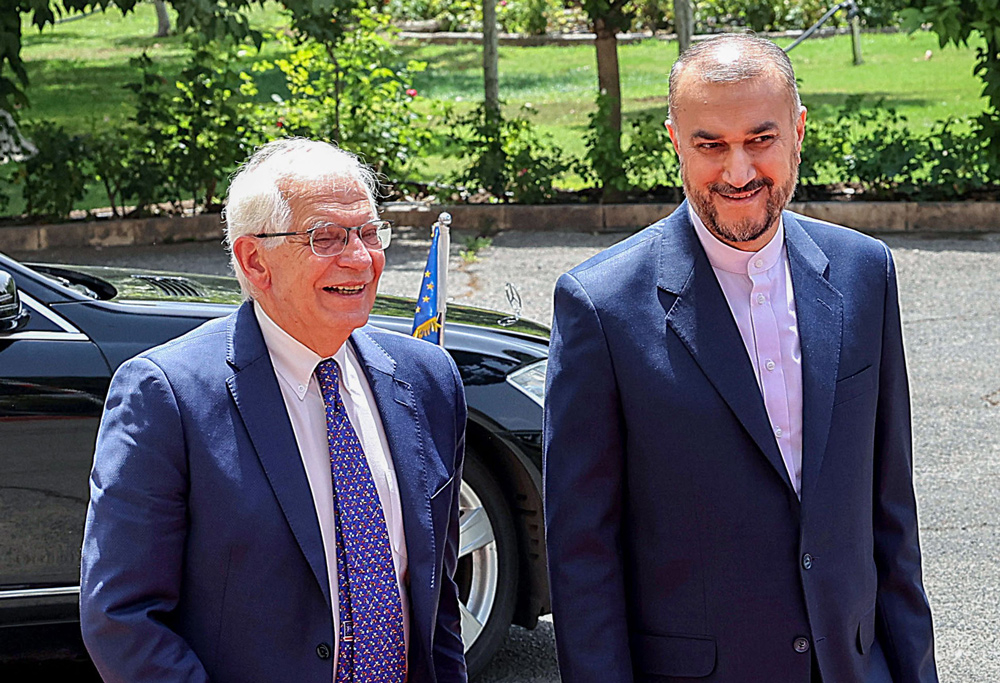 "In Sweden, by 2050, almost one in three people will be Muslim. The civilizational exhaustion is seen in Europeans' falling birth rates, mushrooming public debt, chaos in the streets, and a refusal to invest in security. Islam is filling the cultural vacuum of a society with no children and which believes – wrongly – it has no enemies."
Source: Europe's Civilizational Exhaustion | Gatestone Institute
Islam is filling the cultural vacuum of a society with no children and which believes — wrongly — it has no enemies.
In Sweden, by 2050, almost one in three people will be Muslim.
The European mainstream mindset now seems to believe that "evil" comes only from our own sins: racism, sexism, elitism, xenophobia, homophobia, the guilt of the heterosexual white Western male — and never from non-European cultures. Europe now postulates an infinite idealization of the "other", above all the migrant.
A tiredness seems to be why these countries do not take meaningful measures to defeat jihadism, such as closing Salafist mosques or expelling radical imams.
Muslim extremists understand this advantage: so long as they avoid another enormous massacre like 9/11, they will be able to continue taking away human lives and undermining the West without awakening it from its inertia.
Is this really what we want? Because it's what we're going to get, if we don't – collectively – wake up, and start defending what is valuable: our history, our culture, our heritage.
This essay – which makes for sobering reading, but for that very reason should be read, marked, learned, and inwardly digested by defenders of the West – continues,
Stephen Bullivant, a professor of theology and the sociology of religion at St Mary's University in London, recently published a report, "Europe's Young Adults and Religion":
"Christianity as a default, as a norm, is gone, and probably gone for good – or at least for the next 100 years," Bullivant said.
According to Bullivant, many young Europeans "will have been baptised and then never darken the door of a church again. Cultural religious identities just aren't being passed on from parents to children. It just washes straight off them… "And we know the Muslim birthrate is higher than the general population, and they have much higher [religious] retention rates."
That is a very dangerous and worrying combination – to put it mildly. The situation has gotten so bad that no less a figure than Richard Dawkins, who is as this essay notes is
an atheist and the author of The God Delusion, responded to the study's release by tweeting to his millions of Twitter followers:
Before we rejoice at the death throes of the relatively benign Christian religion, let's not forget Hilaire Belloc's menacing rhyme:

"Always keep a-hold of nurse
For fear of finding something worse."
Dawkins is apparently concerned that after the demise of Christianity in Europe, there will not be an atheistic utopia, but a rising Islam.
Dawkins' concern is well-founded. Secularists and atheists of Dawkins' ilk – not, clearly, Dawkins himself, who though misguided is vastly more intelligent than many of his followers – have been happy enough to use Islam (*) as a foil for Christianity (and I would not be surprised if many have not rejoiced, secretly, in the deaths of Christians in the Middle East and elsewhere), believing that it is doing much of their work for them, and that they can then control and enervate it, too.
This makes about as much sense as trying to chain a dragon to boil a pot of tea. What they fail to realize is that those who passionately believe in something – whether that "something" is truth or falsehood, witness the passionate belief in Communism many still possess, despite its theoretical "defeat" in the 1980s and '90s – will always have an edge over those who believe in nothing. And unlike the heirs of Western Christendom, Islam is not tired, not exhausted: it has had a rest of some centuries, and has awoken.
It is time, and past time, for us to awaken, too – to awaken to our peril, and to defend ourselves against it. We have a moral responsibility to do so (and as Christians, a religious duty, since Islam is a false religion, and a dangerous ideology): not only for ourselves, but for our ancestors, and for our descendants. So far, we are abjectly failing both. We are betraying our patrimony, by failing to defend it, and pass it on.
What is at stake, here? Let's look to history: when the Iberian Peninsula fell to the Muslims, it took 700 years to reconquer it – and that was with most of the rest of Europe free. How long will the Reconquista take, if the whole West should fall? None of us will live to see it! But if we fail to wake up, we may live to see that fall.
Again I ask: is this really what we want?
---
• And more generally, multiculturalism and mass immigration, which – far from being a source of strength – weakens and breaks down cultural cohesiveness and integrity, and damages the host culture's ability to defend itself against attacks both from within and from without. But Islam is the most significant unifying force among many of these immigrants, especially in Europe, and increasingly in the U.S., too.