---
"Put simply, it is chiefly the job of the Traditional Husband to earn a living, but it's the responsibility of the Traditional Housewife to be thrifty, industrious, and yes – contribute if and where she can! Sometimes this means saving money and shopping sales, other times it means making sales! If she can do a little extra here and there to manage her household affairs, expand her horizons, and use her talents to, well, "grow her talents" (Matthew 25:14–30), why hold that against her? It's a shame for a woman not to use what is available to her in terms of talent, skill, and ability. If she has gifts, and from that can add to the family coffers, and give something back to the world, while still managing the fine balance of seeing to her family's needs first and foremost – then amazing! More power to her!"
Source: "Can Housewives work and earn additional income for the family?" – Elena Katie Pettitt, The Darling Academy
---
This is, in my opinion, an excellent essay – one that I encourage my readers (women in particular, but men as well) to "read, mark, learn, and inwardly digest." I have written before on the fact that the 1950s, which some hold up as the ideal for the "traditional family," was in fact an historical and economic aberration (and why), and that, as one useful essay has put it, many "tradwives aren't trad enough."
If you don't believe me, or Ms Pettitt, then read perhaps the most iconic, classic description of the traditional housewife ever written, the "Proverbs 31 woman" – also known as "the virtuous woman" – as contained in the 31st chapter of the Book of Proverbs, in the Holy Bible (quoted, below, from the RSV). Traditionally described as "The words of Lemuel, king of Massa, which his mother taught him," it reads as follows:
10 A good wife who can find?
    She is far more precious than jewels.
11 The heart of her husband trusts in her,
    and he will have no lack of gain.
12 She does him good, and not harm,
    all the days of her life.
13 She seeks wool and flax,
    and works with willing hands.
14 She is like the ships of the merchant,
    she brings her food from afar.
15 She rises while it is yet night
    and provides food for her household
    and tasks for her maidens.
16 She considers a field and buys it;
    with the fruit of her hands she plants a vineyard.
17 She girds her loins with strength
    and makes her arms strong.
18 She perceives that her merchandise is profitable.
    Her lamp does not go out at night.
19 She puts her hands to the distaff,
    and her hands hold the spindle.
20 She opens her hand to the poor,
    and reaches out her hands to the needy.
21 She is not afraid of snow for her household,
    for all her household are clothed in scarlet.
22 She makes herself coverings;
    her clothing is fine linen and purple.
23 Her husband is known in the gates,
    when he sits among the elders of the land.
24 She makes linen garments and sells them;
    she delivers girdles to the merchant.
25 Strength and dignity are her clothing,
    and she laughs at the time to come.
26 She opens her mouth with wisdom,
    and the teaching of kindness is on her tongue.
27 She looks well to the ways of her household,
    and does not eat the bread of idleness.
28 Her children rise up and call her blessed;
    her husband also, and he praises her:
29 "Many women have done excellently,
    but you surpass them all."
30 Charm is deceitful, and beauty is vain,
    but a woman who fears the Lord is to be praised.
31 Give her of the fruit of her hands,
    and let her works praise her in the gates.
I firmly believe that the husband should be the primary "bread-winner," thus enabling his wife to focus on family and household affairs; but "primary" does not necessarily (and in today's economy, often cannot) mean "sole." Nor did it, for the families of history… or for my own, and those I interacted with, growing up.
As I wrote in an earlier essay on this blog, linked above and here, the family should ideally be an integrated, organic unit, with all members working together for the overall good – and that includes household economics, in both its overall and its specifically financial sense.
I was fortunate enough to grow up in a family and household in which my mother did not need to work, by the time that I came along – to her great pleasure, for she took joy in being a wife, mother, and homemaker. But she had, in my older brothers' earliest years (she was educated and trained as an English teacher); and many of my friends' mothers sold Tupperware, Avon, or Mary Kay, taught music lessons, or in some similar way helped contribute to their own households' economic well-being.
And that was in the days when the continuing post-War boom made it entirely possible for a man to have a nice house, a car for him and one for his wife, and to support a family (including frequent vacations), all on a single paycheck – and still put away a decent amount for retirement, with a cushion for any other unexpected major expenses that might come up. I know, because my father did it!
Nonetheless, even then, many stay-at-home mothers and homemakers had what nowadays we might call a "side gig." And my grandmothers often talked about "butter and eggs money" – the money women in years, decades, and centuries past had made by selling eggs from the family chickens, butter churned from the milk of the family cow, or other produce!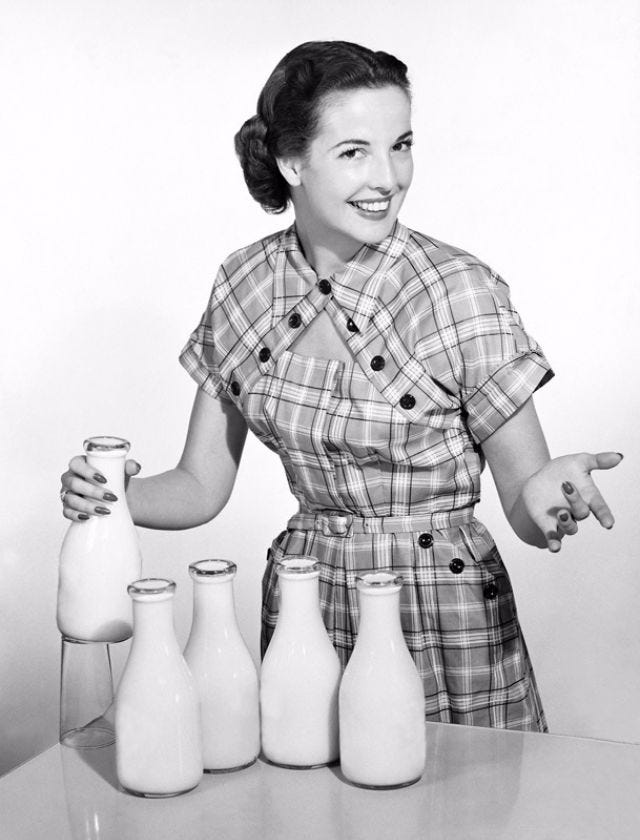 There is quite literally nothing more "traditional" than for a housewife / homemaker to supplement the family income with money made from appropriate (e.g., that which does not shift her primary focus away from the home and family) enterprise.
Those are some of my thoughts; follow the link for more from Ms Pettitt, and also from her respondents. Good stuff, there! And here is one of my favorite quotes from the late great G.K. Chesterton, sometimes known as "the apostle of common sense" – I've shared it before, and doubtless I shall share it again:
Thank you for reading, and God bless you!
---
So, apparently I can get around some of the frustrations of this "block" formatting by cut-and-pasting back from substack… but it still takes a lot more work than it should, so I probably won't be doing it often. This was kind of an experiment!